Thank you for stopping by Needlework Hedgehogs! We are a small breeder of African Pygmy Hedgehogs located in Petersburg, Virginia. We also specialize in quality, hand-crafted hedgehog supplies and gifts, with satisfied customers across the US and Canada.
At Needlework Hedgehogs, we breed for health and exceptional temperament. We have chosen the friendliest hedgehogs from the best breeders in the US to be part of our herd. Our lines are clean of Wobbly Hedgehog Syndrome (WHS) and any genetic cancers that show up before 3 years of age. We are proud to offer a lifetime guarantee against WHS, in addition to lifetime support for each of our babies.
We believe in handling our babies daily, starting as soon as the mom is comfortable, so that they are well socialized and prepared to become your companion. Each hedgehog has a unique personality and we enjoy getting to know each of our hedgehogs on a personal level.
All of our hedgehogs are treated like members of the family. They have access to the best of everything, from their handmade wheels, cage liners, and cuddle sacks, to the high-quality food and treats that we feed them. They have quick access to the best local exotic veterinarian, and we have even consulted with the top exotic vet in the East Coast for the more challenging health concerns that we have seen in our rescues.
We are active members in the hedgehog community, including several online groups that are dedicated to educating the public about these unique creatures. We are proud members of the International Hedgehog Association and the Hedgehog Welfare Society. We are very involved in local rescue efforts, and will gladly take in any hedgehog. All of our hedgehogs are registered with the International Hedgehog Registry, and we will help any customer that wishes to register their baby.
Not only do we breed hedgehogs, but we are dedicated to creating the best available handmade supplies for your hedgehog. From cage liners to cuddle sacks and carrying bags, we are dedicated to making sure that every product we make is 100% perfect for you. We take our knowledge of hedgehogs, from years of owning and breeding, and add your preferences and needs to create the best, safest, and longest-lasting products for the best available price.
Feel free to contact us if you have any questions at all. We look forward to hearing from you, whether you are considering adding one of these amazing animals to your life or if you would like to order custom made supplies for your current hedgehog.
USDA Licensed since March 2014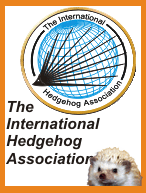 Proud Member Since March 2013
Member Number: B1125
All of our Hedgehogs are
Proudly Registered
In Loving Memory of Zeke
3/25/10 - 8/26/13
Our first rescue hedgehog
Our first hedgehog, Hannah
2 time Blue Ribbon Champ - June 2013
Adult, Female Snowflake Division